Sign up today for our 7th Annual Corn Pickin 5K Click Here to Register!
Corn Pickin 5K Trail Run
| | |
| --- | --- |
| Save The Date: | Saturday, October 9, 2021! |
| Location: | 1289 Creek Road, Lititz, PA 17543 |
| Friday Registration: | 5pm – 9pm |
| Saturday Registration: | 7am |
| Race Start Time: | 8am |
| Kids' Dash: | 9:30am |
*Pre-registration: $25 – before September 24, 2021
*Guarantees an event t-shirt in requested size
Registration – $30 after September 24, 2021
Awards for overall and top finishers in each of the following age brackets: 18 & under, 19 – 29, 30 – 39, 40 – 49, 50 – 59, 60 – 69, and 70+
Kids' Dash (ages 12 and under)
*Pre-registration: $10 before September 24, 2021
*Guarantees a goodie bag (t-shirts not available for Kid's Dash participants)
Registration: $15 after September 24, 2021
The race will start and finish at the Oregon Dairy Corn Maze Barn. Runners will cross scenic farmland, wind through Landis Homes Community, and finish with a lap through the famous Corn Maze!  This course is considered trail running and trail conditions will depend on weather.  Expect bumpy and uneven terrain through the course. Race will be held rain or shine. A BIG Thank you to the sponsors, runners and walkers who participated in our 6th Annual Corn Pickin 5K in 2020, making it the most attended race to date with 181 runners and raised $7,850.47 for the Landis Homes Benevolent Fund.
Corn Pickin 5k Gallery – Great Photos courtesy of Larrry G. from Landis Homes
Thank you to all the 2020 Corn Pickin' 5k Sponsors and Runners for helping us raise $7,850.47 for Landis Homes Caring Fund!
​Thank You, Marvin Dangerfield for the great photos of our 6th Annual Corn Pickin 5K Race!
Thank you to our 2020 Corn Pickin 5K Sponsors!
​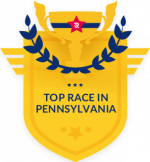 Reason to Run:
Each day in the Landis Homes Community there are individuals whose financial resources fall short of the cost of care they need.  As a faith-based and Christ-centered nonprofit ministry, Landis Homes is committed to caring for the community, even when unexpected health needs have led to dwindling resources.  Annually, Landis Homes provides more than 3 million dollars of uncompensated benevolent care to recipients who are in their most vulnerable last years of life.
The proceeds from the Corn Pickin' 5K will help ensure aging adults and their families have the peace of mind and financial support to live healthy, meaningful lives.
Contact Nancy Brown at nancy.brown@oregondairy.com to discuss sponsorship opportunities.Is your business interested in sponsoring the 2020 Corn Pickin' 5K?
---
Thanks to all those who participated in our 5th annual Corn Pickin' 5K!
We had 174 registered for the walk and 5K and together we raised $9,000 for Landis Homes Benevolent Care Fund! Thank you to our 2019 Sponsors!